RSS

Atom
This is our main meeting.  This meeting usually takes the form of 1 or usually more presentations.  We try to keep a good balance of novice and advanced subjects so that nobody will be overwhelmed of bored.  Just show up, and we hope you learn something.

If you would like some examples of what to expect at this meeting, check out some of the videos that have been made of our presentations.

Topics: Various topics ranging form beginner's to advanced, user to administrator.
When: Second Thursday of each month at 7:00PM
Where: Desert Breeze Substation: 251 North Desert Breeze Blvd, Chandler, AZ 85226
What to expect:
6:30 - mingling/networking and last minute setup
7:00 - Formal meeting starts with announcements and other PLUG business
7:15 - Presentation(s)
9:00 - Clean up and CAT (Chat About Technology) at a local restaurant. (We sit around and talk about Linux and other geeky stuff over food) We usually meet up at BJ;s in the Chandler fashion center mall located at:
3155 W.Chandler Blvd.
Chandler, AZ  85226 (Map to BJ's)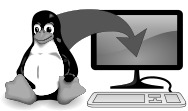 Bring your computer to get Linux installed and/or get help with some configuration issue.
One on one help for problems or other things you want to learn about Linux.

If you are already comfortable with linux, come on by and see what you can do to help others, or just stop on by and hang out.  You never know what you'll learn or what you can contribute.

When: The 1st and 3rd Saturdays each month from 10am till 4pm
Where: The University of Advancing Technology, 2625 W. Baseline Road Tempe, AZ 85283-1056
Map: Click Here For Map
It's the building slightly east of the marker on the south side of Baseline. Enter through the doors on the south side of the building.
Anyone interested in Linux is welcome.  We can just chat or we can install almost any version of Linux on your computer (you must bring everything needed to use your computer (e.g. monitor, keyboard, cords, etc).We can install most Linux distributions.  We are also happy to fix problems, answer questions or simply discuss free software.
You need to bring everything required to use your computer. We provide power and network connectivity as well as install media.

We are always happy to see additional volunteers.
Topics: Cyber security focused courses for the public. 


When: 2nd Thursday of each month at 7pm
Where: Chandler Desert Breeze Substation - 251 Desert Breeze Blvd West, Chandler, AZ 85226
Map: Click Here for a Map

You are invited to attend this event if you are interested in cyber security and wish to have an opportunity to learn about digital security as well as related hardware and software.

About the Instructor:
Aaron is an experienced Linux user with several years of teaching experience. He works in the industry as a software developer while also providing consultancy on cyber security related topics. His discussions are AZ Post certified for training credit for law enforcement and he prides himself on providing quality educational material that is relevant and topical. He has a Masters Degree in Intelligence Analysis with a focus in Cyber Security, is a life long learner, and prides himself on staying up to date with the ever changing field of cyber security.



What: A Stammtisch is a gathering of people with a common interest, so there is no formal presentation for this PLUG meeting.

Please come and join us for some good conversation over good food and drinks, which are both optional... Friends and family are all welcome.
Come see where the conversation leads this time, it doesn't just stick exclusively with Linux.  Us Linux geeks are interested in all sorts of things tech, so the conversation always leads to a good time.

If you have any problems, feel free to bring in your machine and we'll see what we can do to fix your problem... 

Jobs Nights
Quarterly ( Januaries, Aprils, Julys and Octobers ) there is a Jobs Night event at 18:00 before Stammtisch.

Getting to know others ( networking ) has always been part of Stammtisch ( the conference hallway track without the conference ). The Jobs Nights events came about due for requests for a more directed approach to job networking from both hiring employers and those seeking new jobs. It was therefore natural to create standalone events that merge into Stammtisch.

Januaries and Julys host resume events while Aprils and Octobers have jobs networking events.

Resume Review Nights
Bring your resume and questions for review by tech industry veterans. We can help with content, display and editing. If you regularly read resumes, edit or help people write, please stop in to help.

Jobs Networking Nights
We encourage engineers from groups that are hiring and hiring managers to attend. The goal is for prospective candidates to learn about the company and the actual job and for the team to have a chance to meet prospective candidates. Interviews are bi-directional, so are job searches.

When: Third Tuesday of each month at 7:00PM (People usually start arriving as early as 6 though)
Where: Boulders on Southern,  1010 W Southern Ave, Mesa, Arizona 85210
Google Map: https://goo.gl/maps/9Wbm5