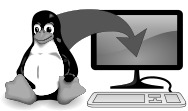 Bring your computer to get Linux installed and/or get help with some configuration issue.
One on one help for problems or other things you want to learn about Linux.

If you are already comfortable with linux, come on by and see what you can do to help others, or just stop on by and hang out.  You never know what you'll learn or what you can contribute.

When: The 1st and 3rd Saturdays each month from 10am till 4pm
(Please check the calendar to make sure there aren't any changes or cancellations)
Where: We are currently meeting online at https://bbb.azloco.net/
Anyone interested in Linux is welcome.  We can just chat or we can install almost any version of Linux on your computer (you must bring everything needed to use your computer (e.g. monitor, keyboard, cords, etc).We can install most Linux distributions.  We are also happy to fix problems, answer questions or simply discuss free software.
You need to bring everything required to use your computer. We provide power and network connectivity as well as install media.

We are always happy to see additional volunteers.
The location is not available for this Saturday's Installfest so we've regrettably needed to cancel this particular meeting. We hope to see you at the next one though.
Due to the Release of Ubuntu 18.04 we are doing things a bit different for the installfest on Saturday.  We are having a release party with Arizona Ubuntu users at the home of Walter and Ingeborg Mack, 5831 W. Kesler St. Chandler, AZ on 21 April from 2-6pm.  Internet will be available, installs will still be conducted and problems will be solved while we celebrate the release of Bionic Beaver and enjoy some excellent food, great camaraderie, and some serious (and some not so serious) discussions. Everyone interested in Free and Open Source Software is invited.  Please bring a dish to share.
For any questions, please contact
This email address is being protected from spambots. You need JavaScript enabled to view it.
or RSVP at
This email address is being protected from spambots. You need JavaScript enabled to view it.
Due to a last second schedule conflict we have had to move the Installfest to an alternate location. We are very sorry for the inconvenience.
This installfest will be at:
Xtreme Bean Coffee Co, 1707 East Southern Avenue, Tempe, AZ
The regular location for the installfest isn't available on the 4th of November, so the Installfest will be held at:
Mesa Center for Higher Education 245 W 2nd St, Mesa, AZ 85201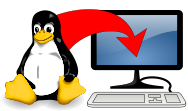 The Installfest will will be held at Gangplank on April 1st 2017.
Gangplank Chandler
260 South Arizona Avenue
Chandler, AZ