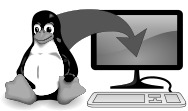 Bring your computer to get Linux installed and/or get help with some configuration issue.
One on one help for problems or other things you want to learn about Linux.

If you are already comfortable with linux, come on by and see what you can do to help others, or just stop on by and hang out.  You never know what you'll learn or what you can contribute.

When: The 1st and 3rd Saturdays each month from 10am till 4pm
(Please check the calendar to make sure there aren't any changes or cancellations)
Where: We are currently meeting online at https://bbb.azloco.net/
Anyone interested in Linux is welcome.  We can just chat or we can install almost any version of Linux on your computer (you must bring everything needed to use your computer (e.g. monitor, keyboard, cords, etc).We can install most Linux distributions.  We are also happy to fix problems, answer questions or simply discuss free software.
You need to bring everything required to use your computer. We provide power and network connectivity as well as install media.

We are always happy to see additional volunteers.
The location for the  October 1
st 
2016 and the  November 5
th 
2016 of the Installfest/Linux Workshop has changed.
The University of Advancing Technology is using all of the rooms on those days, so we will be moving the Install-fest to Gangplank:
260 S Arizona Avenue, Chandler, AZ 85225
http://gangplankhq.com/chandler/


There is free public parking just across the street next to Circle K.
The time will remain the same 10-4. The Installfest for October 15
th
2016 will remain unchanged and will meet at our regular location of UAT.
Due to the Installfest being scheduled on a long holiday weekend, we are canceling the July 2nd event.
Please join us on the 16th of July for the next Installfest and have a great 4th of July weekend.
*Who:* Anyone interested in Linux.

*Who*  Anyone interested in Linux is welcome.  We can just chat or we can install almost any version of Linux on your computer (you must bring everything needed to use your computer (e.g. monitor, keyboard, cords, etc).


*What:*  We can install most Linux distributions.  We are also happy to fix problems, answer questions or simply discuss free software.  We meet the 1st and 3rd Saturday of every month from 10 AM until 4 PM unless we cancel or reschedule due to a holiday.  We no longer  emphasize Desktop versus Server at the 1st & 3rd Saturday sessions.  Please see the calendar at  http://phxlinux.org  ).
We provide power and network connectivity as well as install media. *What to bring:*  You need to bring everything required to use your computer.

RSVP: This email address is being protected from spambots. You need JavaScript enabled to view it.
Location : University of Advancing Technology: 2625 W Baseline,Tempe, AZ 85283 (between 48th and Fry's)
We are always happy to see additional volunteers.